"Cyber is giving golf a run for its money in Augusta, Georgia."
There's never been a time in history when online security has been more crucial to protecting our way of life. This is especially true when it comes to the security of government functions, which is just one of the industries that global IT company Unisys handles. Unisys specializes in providing industry-focused solutions integrated with leading-edge security to clients in the government, financial services and commercial markets.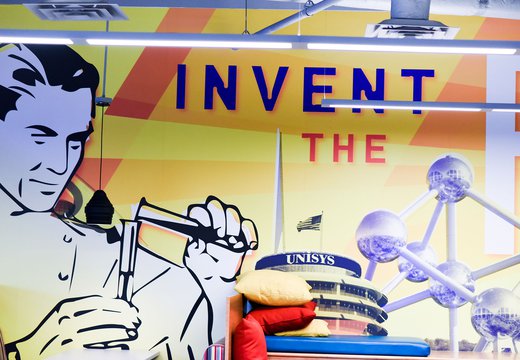 They haven't stayed on the cutting edge of tech by accident. 140 years ago, Unisys started out making typewriters. When air travel took off in America, they shifted to producing gyroscopes for aircrafts. When the time came, they developed one of the first computers in the world. Today their security software protects over 1 trillion dollars every day, and has never been hacked. A leader in biometric security, Unisys develops methods that go far beyond simple passwords, like making sure a user's typing style is consistent with their habits to avoid a security breach.
Unisys protects critical infrastructure across the globe from 132 countries with 20,000 associates. Providing IT support for the U.S. Army as well as hundreds of industry clients, Unisys, based out of Blue Bell, PA, needed a reliable source of talent to tap into for its newest technology center. Enter Augusta, Georgia, where the cyber security world appears to be settling in for the long haul.
Unisys' leadership went in search of a location that would offer a robust talent pool-- but they were also highly committed to finding a community where they could make the most impact on the downtown area. Coupled with a charming and historic downtown area, Augusta is experiencing a major industry boom with the development of its Cyber Innovation and Training Center, the Fort Gordon Cyber District and the relocation of the Army Cyber Command Center. After closely considering dozens of sites it was clear that Augusta, Georgia, is the whole package. "I told a reporter a couple of years ago that Cyber will give golf a run for its money here in Augusta, and she laughed," says Unisys Chief Trust Officer Tom Patterson. "Now here we are, seeing it become a reality."
Finding the building that would be home to at least 700 employees marked the biggest challenge in the company's journey to Augusta. The 118,000-sq. foot building located on the scenic Riverwalk previously housed a retail space and a science center. The building had been empty for several years, but Unisys saw its potential. "You definitely had to look past the obvious and see the bones," Patterson said. Despite the challenge, Unisys' innovative makeover of the space is incredible- a technological mecca with authentic hometown soul. Global clients get a kick out of visiting the conference rooms, named after the songs and albums of Augusta-born legend James Brown. "We commissioned local contractors, builders, artists and designers to keep the money from the project local," says Patterson. The scenic riverfront location, modern design and employee creature-comforts – including an employee cafeteria, quiet working nooks and brightly decorated break rooms all contribute to the positive culture and community vibe at Unisys' Augusta hub.
Unisys Augusta is currently home to over 500 employees; a number that will almost double in the next couple of years. With the boom of industry and Cyber training, the dream of breathing life into a downtown community is now a reality. "We're seeing great restaurants, shopping, and social spaces popping up. We're excited to be a part of the growth and to see that the workforce we need is happy in this community," Tom Patterson adds. The 27,000-strong workforce will only increase as other federal agencies and private contractors seek proximity to what Fortune magazine named one of the "7 Cities That Could Become the World's Cybersecurity Capital."