"NewTown Macon has been the catalyst for new loft and commercial development as well as growing jobs. The organization is transforming downtown into the place where people want to live, work, and play."
NewTown Macon may have the word "new" in their name, but this dynamic organization has been around for 20 years. It got its start in 1996, powered by the Peyton Anderson foundation. Anderson was a local newspaper man who left his fortune to Macon, along with instructions to "give it to good-doers, not do-gooders." Bethany Rogers is the Director of Real Estate and Business Development for NewTown. Originally from a small town in Kentucky, Bethany earned her PhD in New Orleans and was involved in recovery efforts following Hurricane Katrina. After that, she returned to Danville, Kentucky, as the Executive Director for their Main Street program. In 2016, Bethany and her loyal pup, Prince, loaded up and headed south to be a part of another community revitalization, right here in Macon, Georgia. "When Juanita Jordan was trying to decide on a mission for Peyton Anderson Foundation, the downtown desperately needed more life, more energy, so she gathered community leaders, and they created a vision for NewTown Macon to spark the transformation of Macon's historic core," says Bethany. So far, over $350 million has been invested toward the cause- and it shows.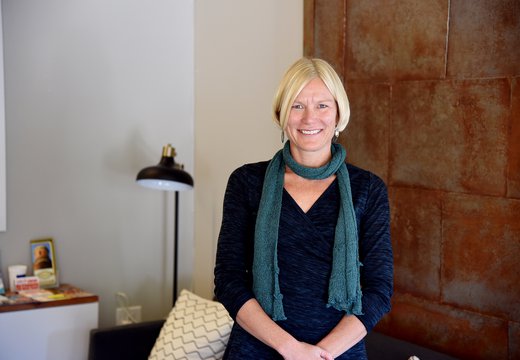 At NewTown Bethany works with entrepreneurs and small businesses who are interested in locating to the downtown area, in particular by helping them with developing a business plan and applying to NewTown's small business loan program if they need financing. "As we've started to redevelop our great stock of historic buildings downtown and we now have more people living downtown and spending time here, we've realized at NewTown that we need to provide support services to small businesses to help grow our shopping, service, and entertainment options.  We're motivated to make downtown a true destination, but we also want to improve Macon's economy and help community members run successful, sustainable businesses," says Bethany. 
One of NewTown's key initiatives is their work on the Ocmulgee Heritage Trail, 19 miles of existing or in-development trails winding alongside or near the river. The system links downtown Macon with nearby neighborhoods, historic cemeteries, and two of the county's largest parks. "We are working to make the trails more accessible to citizens by better connecting the trail system to downtown and adjacent neighborhoods and making more sections bikeable." Bethany adds. 
In addition to guiding new businesses and residents into Macon, NewTown's renovated office also serves as a co-working space for other local professionals. There are four private offices and meeting space perfect for transitioning a business to an office environment. 
One of the fastest areas of growth in downtown Macon is in their residential lofts. Demand for housing in Macon's highly walkable downtown has spurred renovation efforts in town, much of which is supported by NewTown's real estate development program. NewTown's first major project was the Dannenberg Loft building, with 46 units. Another big loft project currently in the works is the Lofts at Capricorn.  A number of years ago NewTown secured the historic Capricorn Studio, but in 2016 the studio and lofts were sold to a developer to remake almost an entire square block of downtown Macon.  The historic Capricorn recording studio will be home to Mercer University's Music program and a museum and 146 new construction loft apartments are being built around the historic studio and will soon be available to lease. Small businesses are attracted to Macon's walkability, wide sidewalks, and limitless potential for community-focused street activity. NewTown's goal? 1,100 residential units in the downtown area. 
More than half of downtown Macon's new residents come from out of town. A recent study by Place Economics shows that each upper-level loft residence also brings with it a $15,000 increase in spending on local goods and services. Macon's storefronts, restaurants, and theaters provide endless charm as well as access to culture, great products, and a palpable sense of community. 
Chrissy Lee, co-owner of one of Macon's most popular downtown spots, Parish on Cherry St. Lee, says it's been a dream of hers to open a restaurant in downtown Macon for years, and in 2014, she made it a reality. Parish dishes up New Orleans style fare seven days a week for both lunch and dinner, along with a full bar.
Jeron Ridley and his mother, Dot own and operate Dot's Forget Me Knots in downtown Macon, specializing in women's clothing and accessories. 
In addition to residential and business growth, there is always something exciting going on in downtown Macon- whether it's a food truck festival, a movie in the park, or a street party. Follow NewTown Macon on Facebook or visit their website to learn more about how they are reaching their community's vision for a thriving downtown.