The Georgia Power Education and Workforce Development team operates around the state with a team of 28 dedicated educators, workforce development experts, and leaders. Led by Joseph Lillyblad, this group runs the Learning Power program, coordinates with communities as they develop workforce development programs, and bridges the gap between local industries and school systems to strengthen the talent pipeline for the entire state of Georgia.
It's hard to describe all the incredible work this team does - but to get a better understanding, we sat down with Joseph for a Q&A to highlight some of their programs, successes, and how the team feels about the work they're doing to grow an equitable education system for Georgia students from pre-K to adulthood.
So, Joseph. How many people do you have on your team now?
In total the team, including me, is 28. You've got the Learning Power team, which is the education coordinators, most of which are former classroom teachers. The bulk of their time is spent doing the energy efficiency classroom lessons. We hit the one million student milestones last year, and continue to engage across the state. We're in 172 of the 189 school districts across the state to ensure that we're bringing STEM education into as many classrooms as possible. They're also serving on CTAE advisory boards or they are STEM advisors. They use curriculum to advance STEM engagement in their schools, tying them to apprenticeships and internship opportunities.
Do the coordinators get a good response from the students and teachers they work with? Especially after being in virtual school for so long...
Especially now getting back to a normal classroom cycle because everything is so hands on. It gives the students a chance to get up and move around, in some cases burn off energy (pun intended), but also be able to experience things beyond textbook. Yes, we're giving them the core curriculum, but when you can bring it with a hand crank generator and they draw the connection that motion creates energy and creates the light in the classroom, it helps them understand things in a real-world application.
The most recent launch for Learning Power is the Energy Efficiency App. Its purpose it to help young residents, elementary and middle school aged kids understand that if they leave their iPad plugged in for 24 hours there's a cost. We want them to be able to measure what is their economic impact and the use of energy. It gives kids and families a chance to work through the house. If they plug in the hair dryer and use it for 30 minutes, for example, they get an insight on what that could potentially cost. And it's all gamified. It's designed for younger ages, so it has all bright colors and the fun appearance, but it really focuses on the economics of energy and how that impacts an everyday household.
And on the Workforce Development side, what is your team up to there?
Workforce development continues to grow. We're really focusing what we're doing to support the state. Jamal Jesse is involved in the work being done to support the new Hyundai facility . He's working directly with the four county Joint Development Authority. But that's just one small piece of the puzzle. We're also working across a variety of industry spectrums. Our team is doing a lot with manufacturing to ensure that we're getting people connected to the career pathways through the education pipeline, and then directly into employment from there. We work closely with the TCSG (Technical College System of Georgia) to ensure we're aligning the programs they're offering to the workforce needs of the communities that we're supporting.
Then there's the work we're doing to support Power Delivery, making sure we've got diverse pipelines coming into transmission and distribution, and that we're growing a future pipeline for the energy industry. Whether they come to work for Georgia Power, our contractors, our EMC partners, they need a workforce as well, so we're focusing on future energy workforce and modifying that to make sure it's not just about traditional generation, but also what are we doing in the renewable space, what are we doing in advanced energy technology, and then translating that into electric transportation, electric vehicles, and the high level of manufacturing increase that's going on in that field.
It sounds like your team is keeping up with the changing landscape as well as Southern Company's vision for the future.
That's part of it, and there's no single nut to crack. It's a whole field of nuts and trying to align them to make sure that everything's working towards a common goal. Getting education and industry connected can be a challenge, but one that pays off for everyone in the end. Oftentimes things move at very different paces. We work to align expectations from both industry and education, and then support education to be innovative and think about the big picture, not just what's tomorrow. We can't solve workforce development issues on our own, but collectively as a state we have to work together towards the common goal, and we're really pulling all the right players together to do that.
Tell me about the Workforce Guide your team recently produced.
Partnering with the Carl Vinson Institute, we launched the Strategic Workforce Planning Guide at the end of 2022.. It's geared towards how we can support communities from a broader perspective. The guide itself helps the user build a strategic workforce planning process. Firstly, how to ensure that the right people are at the table. Then how to set the right tactics and KPIs to measure what success looks like. It's agnostic to industry and geographic location. We're following this model in Savannah for the megasite project with Hyundai, but it can be done in a very rural community that may have two or three main industries and one education system. There's nothing that specifically says size, scale, or geography determines what success looks like. The guide also helps ask some of the hard questions, but does it in a safe way to ensure that we are focusing on what's benefiting the community, rather than pointing fingers around why something might not be working.
What about the efforts to help adults enter the workforce, either from other careers, the military, post-retirement, and those sectors?
We look at that through very different lenses, but for example - military transition into the civilian sector - oftentimes they need support to transition the work they did on the military side to the industry side. That's where we can partner with a technical college or other training programs similar to the construction-ready program. You can put someone into an eight-week training program -they may not need to go for multiple year apprenticeship to get to a journeymen level of a career. There are eight and 10-week training programs that can get them fast tracked into the workforce. We also work with reentry programs for formerly incarcerated individuals. Sometimes correctional institutions have academic or hands-on training programs, but there still needs to be a transition period. So, we're working to support programs at the technical colleges or homegrown programs within education systems, whether it's getting someone from high school dropout to GED graduate and focusing on getting them prepared for work as they reenter society.
How does your team think about modernizing the workforce to meet changing industries?
There are many communities that have had long-term industry that is modernizing or changing. You go from very traditional manufacturing models to advanced manufacturing. It's shifting from having an individual working the line to running the robots that work the line. It's a very different skillset, and we have to make sure we're getting training and development programs in place for employees. It's not a decrease in workforce -it's a re-skilling or up-skilling in that workforce. They still need to know the core skills for manufacturing, but now they're doing it through technology. There's training required for individuals to make sure they stay successful in that career path.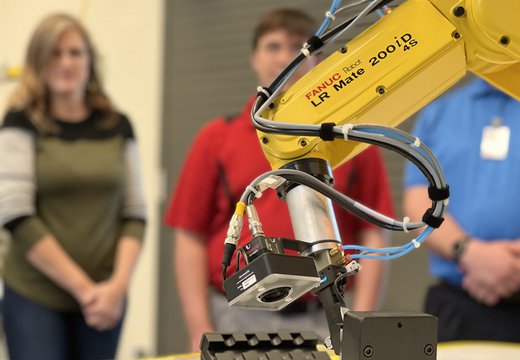 Something else we talk about a lot - how is the perception of a technology certification being less important than a 4-year degree changing?
I think both are equally important. Obviously, if someone wants to be a doctor, they're going to have to go through a four-year institution and onto medical school. Not everyone wants to be a doctor. I think part of it is changing the paradigm to say a welder is a profession, a plumber is a profession, a lineman is a profession. If that's what you want to do, let's raise and elevate the importance of that. We're really starting to see people taking a very different approach. Younger populations are understanding that a skilled trade isn't a leftover career. It really is a forward-thinking career. There may always be perception issues, but we're working with our education partners to help change that paradigm. Once you start engaging both parents and students so that they understand a career path and earnings potential, they definitely start changing their perception around that. When we do the math, not all students who start off at a four-year institution finish. There are a lot of students across the state that need to know there are additional career pathways for them. The state's doing a great job with getting those set up available to students.
If you talk about earnings potential and how people like to work... Some people like to use their hands. People like to be outside. People don't want to be stuck behind a computer all day. People love to be stuck behind a computer. We need coders. We need developers. We need all of that. There are so many different options out there. We just need to make sure we're keeping career awareness in front of people so they can understand their interests and aptitudes, and create clear pathways for students to be able to pursue those career paths.
The main takeaway is that there's no one correct approach to how someone gets into the workforce. Build your soft skills. Learn how to communicate. Embrace technology. Whether you go on to be a PhD in astrophysics or a welder, you've got a career path, and you've got a success track that's laid out for you. I think the more we start highlighting that and getting folks to understand that, the more equitable and successful the talent pipeline becomes.
Speaking of equity, let's talk about another new program your team is involved in.
Equity Through Education. It came from the question around how we can close gaps that we're finding in certain communities across the state. Super broad statement. We really wanted to look at some of those catalysts around why some communities weren't thriving through the education system. After lots of research, it really boils down to access to opportunities. By creating that access, you can change the trajectory for those students.
Georgia Power, through the leadership of Chris Womack, our foundation, and other executives, said, 'let's explore it', and made a large-scale investment in four school districts. We're in Albany, Dougherty, Savannah-Chatham, Clayton County, and Richmond County school districts, and really focusing on ways to create access for students who haven't historically had that. Each of those districts are majority students of color. So what are we doing to bring programs, access, and availability to those communities? One small scale example, Clayton County. Georgia has an amazing early childhood education system. They're nationally ranked. But if your community doesn't have access to those childcare programs through state-funded dollars, you don't necessarily know about that. Through this program, we were able to increase the number of students in their pre-K programs by nearly 50%.
That's not just getting students into early academics - meaning they're learning shapes, colors, phonics, letters early on. It's also taking money and putting it back in their parents' pocket, because it is part of the school system. It is part of the state funding. They're not having to pay hundreds of dollars a week for daycare. They're putting kids into pre-K programs that give their students core academics, and setting those students up for success, but also putting money back in the home and the local economy.
Another thing we were able to do was to increase the number of students last summer in paid internship programs, partnering with other companies through the program to ensure that students are getting work experience, not just from a technical training perspective, but understanding what safety looks like in a workplace, how to get to work on time, practicing proficient communications, and all those other soft skills that oftentimes are struggles in the workplace. Getting those students into paid internships... And I stress the pay, because if they weren't
in a paid internship to build a profession, they might be working somewhere else over the course of the summer and not building those skill sets. They need that income. No one wants to work for free. And by paying the interns, industries see the value in those interns turning into employees. Workforce is still the number one issue in economic development. I think industries investing in the communities and the school system with the support of this team and others is a win-win. Students who do apprenticeships and students who are in CTAE graduate at a higher level than students who don't participate in those career pathway programs. The state average is 87% for traditional high school, 97% for students who are in CTAE.
It's a team effort. We've got state partners, partners with the Carl Vinson Institute, community development, and region external. We're not single-handedly doing this. We want to lead the charge to make sure that we're continuing to make Georgia the best state to do business, but we can't do it alone. Workforce development is 100% a team effort.

Education Coordinator Teresa Cobb hosting an Equity in Education event in Richmond County.:
You mentioned teamwork...you must be pretty proud of yours.

There aren't words that express the pride and joy that I have with the work that this team is doing. It's hard to measure. If you make an impact in a second grader's life today, you might not see the fruits of that labor for another 10 to 15 years depending on what level of education they ultimately achieve. But we know we're making impact at that level today. We believe that Georgia will continue to be successful in small part to the work that we do. The passion that this team operates with...it really is knowing that we are impacting the success of Georgia and the lives of those Georgians that may not have had the same opportunities 10 years ago. We're making sure those opportunities are there now.

To learn more about the Georgia Power Workforce and Education Team, find them here.