Workforce development continues to be the cornerstone of building a strong future for the state of Georgia. While we celebrate success with project announcements, expansions, and rural development, developing a strong pipeline of future talent is imperative. Communities like Habersham are taking action by developing programs like Raider Up, a career development initiative located right inside their high school - that works directly with students to inspire, encourage, and support them as they take those big steps toward their own futures.
The Program
Raider Up is a culmination of many years of collaboration between the school system and local business industries, specifically for workforce future pipeline for these businesses that are located in Habersham County and beyond," says Rope Roberts, Community Development Manager for Northeast Georgia. "This model of partnership between school systems provides a mechanism where students can learn what they want to do, what they're good at, and really more about themselves and where they want to work. And that is where the businesses in a community make a difference with the school system in helping those students be connected, be employed, and not to be lost along the way."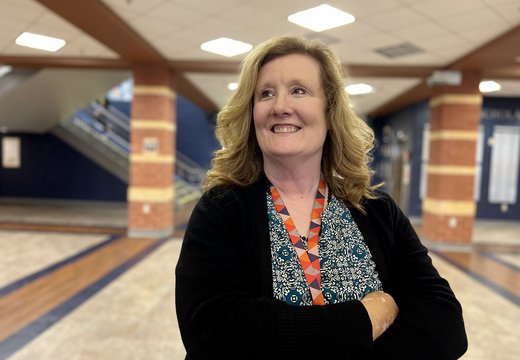 No new initiative can get off the ground without passion - and Alice Brewer, CTAE Director for Habersham County Schools, is passionate about career development. "One of the projects that I have worked on in the CTAE (Career, Technical, and Agricultural Education) world is our annual industry summit, where we focus on a group of students who are ready to go from high school to workplace. And this year we're doing that a little bit differently. We're narrowing the gap between high school graduation and careers for our seniors. We have launched something that will focus directly on the steps that they can take to get that done," says Brewer.

The idea for the Raider Up Career Center was born out of a partnership between local industry leaders and the school system - the dream of a career center where those leaders could come in and mentor students to help them prepare for a career, and to do their part to give back to the educational ecosystem. Brewer explains, "In collaboration with those companies, our work-based learning coordinators, we came up with the Raider Up Career Center. We have lots of community members that are willing to invest their time, willing to invest some money in this program, and willing to invest in the future of Habersham County. We're very thankful for our business and industry leaders, to our superintendent who also supports CTAE and the career exploration that comes with that, and then of course, our principal, Jonathan Stribling, at Habersham Central High School.
Anthony Breeden is a senior at Habersham Central High School and a participant in the Raider Up program. "A couple of years ago, I didn't know what I wanted to do after high school. Ms. Brewer and Coach Brooks came into the classroom and gave us a survey and a presentation on potential careers. I learned that I really like working with my hands, fixing things, and helping people. That led me to focusing on a path toward the lineman program. The school really cares about your future, and they want to make sure you find a career you enjoy."

Student Participation
One important aspect of the Raider Up program is the mentoring and coaching the students receive. They are not only given information about careers - they're paired with a business industry partner that provides mentoring sessions on everything from building resumes, interviewing skills, how to manage your money, and achieve goals. Jonathan Stribling, Principal of Habersham Central High School explains, "I think that the function of a high school is to contribute to the economic development in a county, and the Raider Up Career Center is our effort to that end. In education, we talk a lot about college, but ultimately, it's about being career ready. Many great careers require different types of post-secondary training and gaining the job skills that our industry partners can teach our students is just invaluable. And quite frankly, our industry partners can teach them the relevant career skills better than we can here on campus."
Participation in the program is voluntary. Students can ask for assistance to gain knowledge, job skills, and to develop a clearer path to successful futures. This element of the program ensures that the right students are getting the attention they need, and that the efforts of the Raider Up team are more focused and impactful. "We want to keep a talented workforce here. We want to make sure that they are competitive and aware of viable careers in Habersham County," Principal Stribling adds.

Coaches and Mentors
Morris Brooks is the work-based learning coordinator at Habersham Central. He and Adam Banks, CTI Coordinator, worked in collaboration with the Habersham team to launch the program. At the Career Center, seniors have a host of resources available to them, one of which is the GCIS (Georgia Career Information System) database website, which students use are a resource to dig into career information and youth science services that, in conjunction, help give them a better idea of what they want to pursue after graduation. "The EDC provided the funding for the database, which is a huge win for our program. The Georgia Career Information System just has a host of activities for students. For example, many times, people don't talk about wages. A student can look up and see how much they can make as a lineman, or any other profession, "says Brooks.

Adam Banks adds, "When we tell them that they actually have a group of professionals here that are working for them at no cost, they're encouraged to investigate all these different aspects around careers. The Raider Up Career Center is open to all students here at Habersham Central High School. It's been a great opportunity and we look forward to working with more students in the future."
One of the program's founding members and current mentors is Wade Rhodes, who works in commercial real estate with the Norton Agency. Like other local leaders, Mr. Rhodes understands the importance of workforce development and the responsibility of the community to assist in those efforts. Rhodes explains," We're connecting the dots between the needs of industry and the needs of high school seniors that are ready to go to work. By starting them early and helping them decide on their career path, we can provide a win-win situation for everyone involved."
The mentoring sessions go beyond simply filling out surveys and exploring careers. Mr. Rhodes and other mentors take a real interest in each student's quality of life going forward. They ask the big questions about their futures - where they'd like to live, what kind of lifestyle they hope to achieve - and they provide step-by-step advice on how to achieve those goals. "I always ask them to keep those goals in writing. Post them somewhere where you can look at them on a daily basis. These kids are 17, 18 years old - sometimes things change, but you always have to keep those reminders of where you want to be in life. As long as you stay focused on those goals, chances are you can achieve them. But they have to be written down - they have to be part of your daily life," Rhodes adds.
Its sound advice for anyone - especially for students who experience uncertainty about their futures. The dedicated people behind the Raider Up Career Center know that by building students up, they're also building a brighter future for Habersham County, and changing lives, one student at a time.