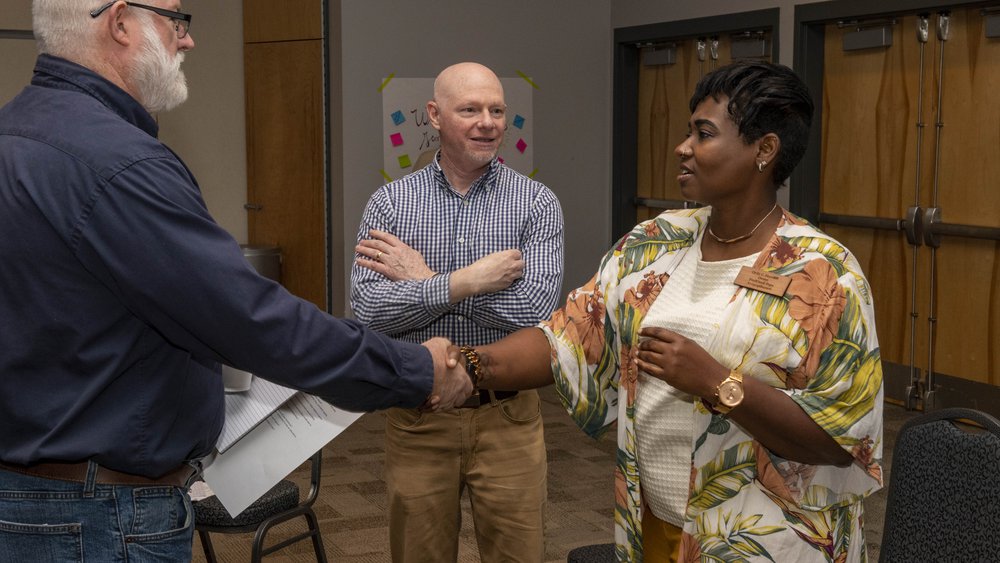 When our small towns grow, all of Georgia grows.
In Georgia, over 2.3 million people call rural communities' home. Although small, these towns are packed with talented and passionate leaders working to ensure that their cities have a prominent place in Georgia's future.
To amplify their efforts, Georgia Power is excited to announce the first communities starting a two-year program, CREATE - Cultivating Rural Entrepreneurs And Transforming Economies.
The first CREATE cohort will kick off on May 10, 2022, with leaders participating from Baldwin, Bleckley, Hart, Pickens, Polk, and Toombs County.
The CREATE program provides technical assistance, seed capital, and guidance to help support and attract entrepreneurs and small businesses to participating communities. Investing in entrepreneurship is critical for job retention and creation in rural towns. In fact, firms employing 50 people or less account for 42% of overall employment in rural communities nationwide.
118
Rural Counties (50K residents or fewer)
7%
2022 – 2027 Rural Job Growth
Scott Purvis with Georgia Power Community & Economic Development has been working with local communities for over thirty years and understands their challenges and opportunities, "Rural Georgia towns have a lot of assets that make them attractive to entrepreneurs and startups. One of the goals of the CREATE program is to help those communities catalog their assets and use them as a catalyst for growth."
CREATE applicants - were required to complete an application and identify five to six champions to participate in the program alongside the team leader(s).
"For an entrepreneurial ecosystem to be effective, it's essential to incorporate small business owners' ideas, experiences, and vision into the communities' strategies," said Sarah Carnes, Business Recruitment Associate with Georgia Power Community & Economic Development.
The cohort will be tasked with developing and implementing a targeted growth strategy for their local and regional economies. Later this year, communities will receive $5,000 in seed capital to kick-start their implementation efforts.
Through CREATE and other Rural initiatives, Georgia Power Community & Economic Development helps rural and small towns across Georgia plan for sustainable growth.
Small town growth is Georgia's growth.
---
Georgia Power Community and Economic Development would like to thank the University of Georgia Office of Public Service & Outreach and Main Street America for their continued support in the development of The Create Program