"Mr. Matthews was my favorite teacher because he helped grow my love of art. He also happened to be one of my favorite older cousins. As a child he was the only artist I knew. His drawing abilities were very close to photorealism. We shared a love of art but were very different in our given talent and genre. He was my only high school art teacher the three years I took art. Mr. Matthews saw things about your talent that you could not see in yourself. He encouraged those talents and assured you that in art everyone had a place, but we all were better in some areas than others and vice versa. However, that could never be used an excuse to get out of a project in an area that was not your strong suit. Mr. Matthews also modeled the importance of volunteer work to all of his students. He felt that if he was given the talent, he was to use it for the good of others and his community."
-Emily Matthews, Georgia Power Energy Efficiency Education Coordinator
"Ms. Barbara Jackson Edmund at Burke Academy. Her sense of humor was amazing but her caring for her students exceeded the limits of her classroom."
-Bill Glisson, Georgia Power Education Supervisor
"Ms. Leanne Blakeslee at Mount Vernon Christian Academy. Ms. Blakeslee pushed me to my limit. She looked at me and said, 'Cedric, you will get this!' I love and adore her to this day!"
-Cedric Sheffield, Georgia Power Energy Efficiency Education Coordinator
"Ellice Martin at Clinch County High in Homerville, Georgia. Dr. Martin was my High School Algebra teacher. Math was not my favorite subject and caused me some anxiety through the years. She was patient and always kind. She made sure that I excelled in class and made me feel confident that I could do it! She just had a way of explaining things that I could understand and was available any time I needed help. She later became one of my Professors in the Education Program at Valdosta State University. We attend church together and work with the children's choir together every Wednesday night! Great lady and great friend to me!"
-Crystal Godfrey, Georgia Power Energy Efficiency Education Coordinator
"Mrs. Cummings at P.S. 132 in Brooklyn, New York. Mrs. Cummings was my elementary school music teacher. She was an encourager and very lively. She taught us to love music and the story it tells. Most of all, she taught us self-respect and respect of others."
-Debbie Pendergrass, Georgia Power Energy Efficiency Education Coordinator
"Mrs. Andrea Jacobson at Milton High School in Alpharetta, Georgia. Mrs. J, as we called her, made learning fun and brought a level of excitement to the class that I had not seen before. She also pushed me to reach for levels that I had not previously thought were possible. After graduating, I wound up babysitting her boys whenever I was home from college. Still to this day we are friends and she continues to give me advice on life and my career."
-Jennifer Chapman, Georgia Power Energy Efficiency Education Coordinator
"Ms. Finn at Walnut Grove Elementary in Suwanee, Georgia. I had just moved to Gwinnett County. Ms. Finn welcomed me to her classroom and had a passion for teaching. She made every lesson fun and engaging."
-Jill Pennamon, Georgia Power Energy Efficiency Education Coordinator
"Ms. Lisa Ruffo at May Howard Elementary in Savannah. For her unparalleled sense of style, but more importantly for the way she made learning memorable and fun while developing lasting relationships with her students."
-Katie Weaver, Georgia Power Energy Efficiency Education Coordinator
"Mrs. Kim Cason at Jordan High School in Columbus, Georgia. Mrs. Cason was not only a great teacher but an amazing coach. She spent countless hours pouring into me to help me become a better student and athlete. Now that I work in education, I am able to work with her in a classroom setting. It is fun to see our relationship come full circle!"
-Kim Weaver, Georgia Power Education Supervisor
"Mrs. Bonnie Craft at Windsor Forest High School in Savannah, Georgia. Ms. Craft was truly a caring and compassionate teacher. She brought out the best in every one of her students. She strived to make a personal connection with each of us. She also made learning fun. She wasn't just a teacher, she was also like a mom to me. She would check my homework and make me redo it if she felt like I didn't give the assignment my very best effort. She encouraged me to complete college scholarship applications. She reviewed each application and gave me feedback. Because of her, I was awarded scholarships that helped me go to college. She is the reason why I became a teacher."
-Lorrie Wallace, Georgia Power Energy Efficiency Education Coordinator
"Dr. Angela Williams at Burke County Middle School. Ms. Williams taught her students the importance of working hard and making wise choices. She worked countless hours outside of the school day to help students succeed. She tutored elementary, middle, high, and college students free of charge. She is BY FAR the queen of teaching math on a level so that ALL learners understand. Her teaching style is fun, engaging, and memorable."
-Teresa Cobb, Georgia Power Education Supervisor
"Mr. Darren McKever at Ann Arbor Trail Middle in Detroit. Mr. McKever had a true passion for urban education. His teaching style was encouraging and relatable, all while demanding a high level of achievement from students."
-Terry Owens, Georgia Power Energy Efficiency Education Coordinator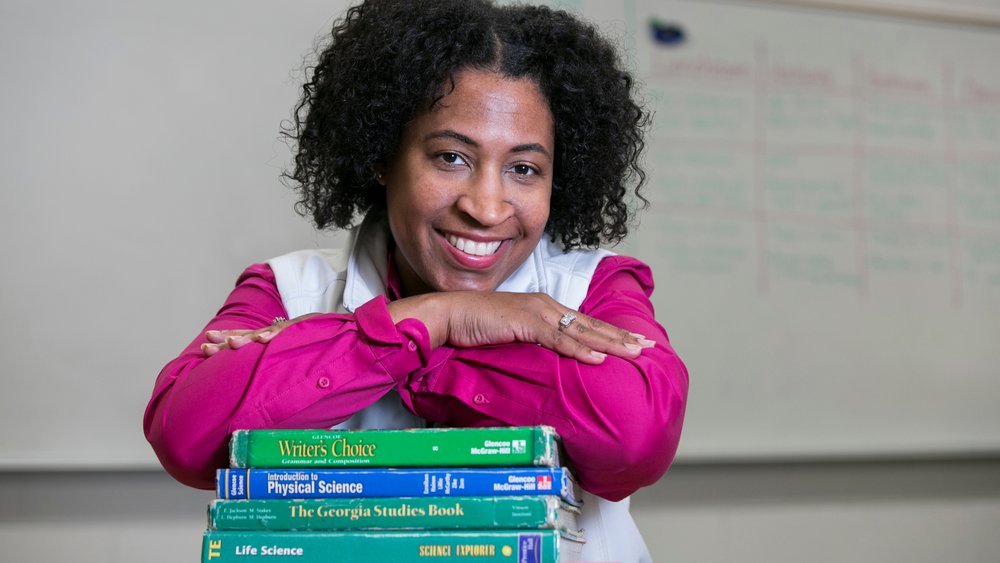 "Mr. Carl Thomas at Screven County High in Sylvania, Georgia. He had passion for helping students understand the importance of being respectful and having a good attitude. Mr. Thomas taught a program in high school called the Job Training Partnership Act (JTPA). This is where I learned so much about 'the real world' including finance, understanding that when a check is written, the money actually came from my account rather than from cyberspace 😊. He taught from the heart and shared his experiences as he provided us with pre-employment skills and training which I would have never received otherwise. Coming from a small town, I had not known of the job opportunities outside of my local area and he shared what he called "good jobs", like Norfolk Southern, Plant Vogtle and Savannah River Site. I thank him for all he poured into us as students who didn't have a clue about life in general. "
-Tosha Morell, Georgia Power Energy Efficiency Education Coordinator
"Ms. Sanchez at Garden Park Elementary School in Brownsville, Texas. Ms. Sanchez was not only my favorite teacher but also my lifesaver. Before meeting her in 3rd grade, I was an A student with behavioral problems (talking and moving around the room too much). She sent me to get evaluated for gifted and talented and the results changed everything. The grades were still A's but the work kept me busy. I went from receiving 'needs improvement' marks to 'great student'. I see her as one of the most important pivotal points in my education."
-Viola Martinez, Georgia Power Energy Efficiency Education Coordinator
"Dr. Virginia Morris at Pearl Lee Smith Elementary School in Savannah, Georgia. I remember the very first day that my mother took me to my Kindergarten class. I had no idea where my mother was taking me when we left home. Once we arrived at Dr. Morris's classroom I still remember the fear and anxiety that I had when my mother left me. Dr. Morris's calm voice, patience, unique teaching gift, and love for her students set the tone for my success through out my educational career. Thank You Dr. Morris."
-Wayne Grimes, Georgia Power Education Supervisor