"When you realize that you can help grow your own workforce in a way that benefits everyone, there are no limits."
Access to skilled workforce continues to be of the most challenging aspects of business, especially in manufacturing. Jason Alford, VP of Integrated Supply Chain at Textron in Augusta, felt that challenge as the manufacturer of specialty vehicle brands like E-Z-GO, Cushman, Bad Boy, TUG and Douglas continued to grow. "In 2016, we announced an expansion that would add another 400 jobs here in Augusta," said Jason. "While that's exciting growth, it emphasizes the need for solutions to the workforce issue."
A few months prior to the expansion announcement, Jason came across an article about a company called Southwire in Carroll County, Georgia. Southwire had partnered with the local school system to create a cooperative education program that would set high school students on a career path in manufacturing. Inspired, Jason reached out to the Richmond county school board to see if there was interest. They both recognized an opportunity to increase the graduation rate as well as supply the workforce chain in the community. Over the next several months, the group Jason pulled together spent much of their time planning, meeting and setting the future of workforce development for Augusta into motion. "I truly believe this is something every community can benefit from. It helps us as manufacturers, and it helps our communities and families. It's a win-win," says Jason. "I'd encourage anyone thinking about starting this kind of program to go for it, and when it gets hard, stay with it. It's worth seeing it through, I promise."
RPM, Reaching Potential through Manufacturing, officially launched in August of 2016 with 75 students. The program combines an on-site school day with a part-time, 4-hour, paid shift at the manufacturing facility. Students learn valuable skills, building machine parts that are sent to another location for production. At the same time, they're earning credits toward getting their diplomas. The kids enrolled in the program have all faced major challenges when it comes to school. "Many of the kids at RPM were in danger of dropping out," Jason said. "They either had low attendance, were failing classes or having problems at home- for whatever reason they weren't on a good track."
Once students complete the program by maintaining their work performance and passing grades, they have the option to apply for full-time work at Textron. Or, they can use their skills and experience to move on and work for another company. Jason Alford was proud to announce that in January, they hired the very first RPM graduate. "When you realize that you can help grow your own workforce in a way that benefits everyone, there are no limits," said Jason. "Education has moved away from vocational studies, so we have to find another way to teach these skills."
Since the launch of the partnership, Textron has had dozens of visitors who hope to start a workforce development program of their own. Interest has come from businesses as well as school systems and local governments – a good sign that these programs truly are a win-win solution to a pressing issue. Jason Alford strongly encourages those interested to move forward with planning these programs. "You have to overcome the hesitation and be committed to seeing it through," said Jason. "This is by far the most important investment we've made in the community. No matter what you may fear, there are 93 reasons in that building right now who make it worth it." Textron hopes to see that number increase in the next couple of years – the goals Is 300 students per year enrolled. As of now, there are 100 currently on the waiting list, and RPM plans on expanding at more suitable duties come in demand.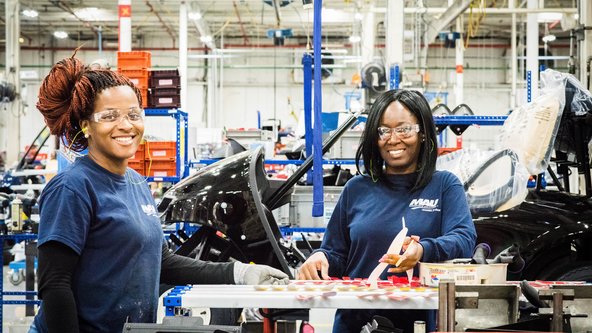 "Textron is an amazing company that has been leading manufacturing growth in Augusta for decades. Now, they're leading workforce growth, too, and they're doing an incredible job at that, as well. We're proud to have Textron as a customer, and even more so, we're proud to have Textron as a local partner that's working to grow Georgia's economic success."