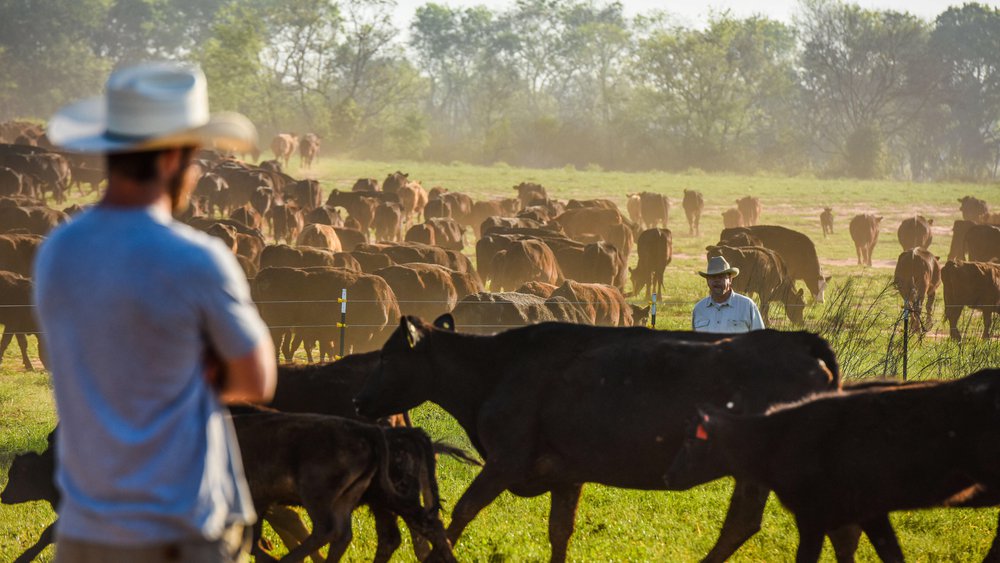 Drones, fiber optics, GPS, e-commerce, vertical integration, biomimicry. Welcome to modern farming in Bluffton, Georgia – population 107.
Located in Southeast Georgia, six generation White Oak Pastures is a model of innovation, running a 21st century farm that, coincidentally, has returned to its 1866 roots through regenerative farming.
Drones aid in land management, measuring paddock regeneration progress on the 3,200-acre farm.
GPS on 60 trucks and tractors improves efficiencies while 80 cameras track movement of 100,000 beating hearts.
Fiber optic cable access provides high-speed connectivity for the new RV park.
Two abattoirs, a packing plant and farm store speed farm to table delivery.
And those who can't stop by the country store can take advantage of White Oak's e-commerce platform to satisfy their farm-to-fork cravings.
Under a well-worn Stetson, you'll find the mind of White Oak's chief innovator – navigating disruptions and opportunities, all with sustainability in mind. Will Harris explains, "Regenerative farming is capital intensive. It's low margin, high risk. But it's the right thing to do." Using multi-species rotational grazing practices used by Will's great grandfather, White Oak honors tradition and environmental sustainability at the same time.
By emulating techniques and processes found in nature, known as biomimicry, White Oak has enriched its soil and animal welfare. Each day, cattle, sheep and goats move to one of White Oak's 112 paddocks, guided by 150 miles of fencing. Every 90 days, a new rotation begins. And while the land is naturally enriched – with no pesticides or artificial fertilizers – White Oak has become a carbon sink, accumulating and storing more carbon dioxide than it emits.
Thanks to innovation, soil isn't all that's being enriched in Bluffton, Georgia. "Ten years ago, the only thing you could buy in Bluffton was a stamp," quips Will. Today, Bluffton claims one of the nation's largest, zero-waste, pasture-raised cattle farms…but dig deeper and you'll discover a general store, an RV park, Farmer's Table restaurant, and special events – from organic farming classes to kids' summer camp and a summer solstice music festival. "We wanted to revitalize Bluffton for our community, the 180 passionate young people who work on the farm, and for visitors," Will notes.
So add Bluffton, Georgia, to your bucket list. Enjoy a sweet tea…and high-speed wifi.
Read more on White Oak Pastures.