Our next stop took us north, over winding Georgia mountain roads into charming Blue Ridge. Rita Suiter, head of Mercier's marketing, was there to greet us with a cup of apple cider (okay, and possibly a fried apple pie...) and tell us all about Georgia's famed apple orchards. Mercier Orchards will be 75 years old next year- they started in 1943 with 23 acres, and today have over 100,000 apple trees on over 300 acres. Throughout their long history, Mercier has diversified their crops enough to be open all year long, and is open 7 days a week. The store is only closed four days per year for major holidays. Over the course of the year you'll also find strawberries, blueberries, blackberries, peaches, nectarines, and of course, over 50 varieties of apples. 
If you're also feeling thirsty during a visit to Mercier's, you're in luck. "About four years ago is when we started our journey into the world of ciders," Rita explains. "It's been overwhelmingly successful- we now have nine flavors of hard cider like our A Cold Day in Hops and Grumpy Granny. It's all made right here on-site, and we sell it from major grocery stores." You can also do a tasting any day that Mercier is open, starting at 12:30 on Sundays and 11-6 during the week and on Saturdays. If you're looking for even more of a cider experience, you can do a cider tour and follow the process from the orchard all the way to the brewing facility.  
Rita says at least once a day, a customer will ask if all of these are really Mercier apples, and she laughs. "With over 100,000 trees, we can promise you these are ours." They like to stay on the cutting edge of the apple world, listening closely to what their customers are hoping for next. If a new variety of apple hits the scene, Mercier staff gets to work right away to test it...since it can take about three years for a tree to mature.  
"We're all about education here, and farming is alive and well here in the great state of Georgia, so there's a lot to learn. It's hard work, and we are very proud to have been at it for so long, "Rita says. They're also resourceful, making use of the entire apple, with almost no waste. "We use every bit of the apple," she explains. "If it's not being ground up and used in ciders, then we turn it into pulp, and farmers come and get it for feed or for fertilizer- we won't waste any of that precious apple."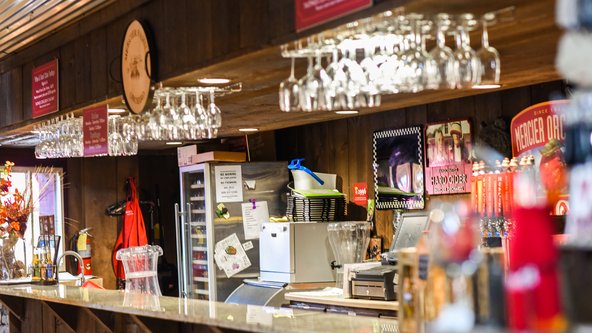 Inside the market, the coziness is palpable. The bakery serves up fried apple pies, fresh fudge, hot or cold cider, and countless baked goods. Looking around, you can see every type of customer from huddled groups of teenagers, to young couples, to families, to businesspeople. There is something for everyone, and everyone is represented. "What makes Mercier healthy and strong is that we appeal to all age groups. If couples come and pick apples together, we want them to one day come back and bring their kids. It's a beautiful and memorable tradition, and we're happy to be a part of it." 
We finished our visit with another question that Rita says she hears quite often- 'what's your favorite apple?' She obliges happily. "My favorite apple is the Crimson Crisp! It's actually in the market right now. It's a small to medium apple, it's tart and sweet, and very crunchy and just delicious." But don't take Rita's word for it- visit Mercier this holiday season and make them a new part of your holiday tradition. 
Find out more about Mercier's apple goodness, the U-Pick season, and their market at www.mercier-orchards.com.