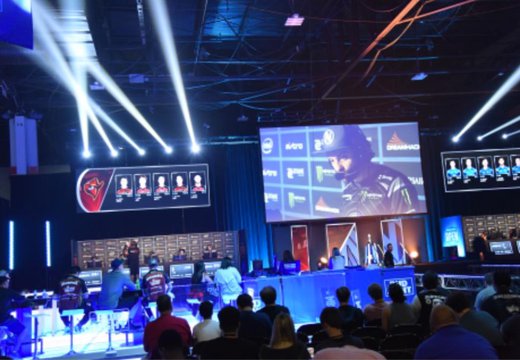 DreamHack, the massive LAN party and digital festival made its way to Atlanta for the first time in 2017. Held at the Georgia World Congress Center, DreamHack brought thousands of gamers together for non-stop tournaments, expos, cosplay, and more. Visitors can bring their own gaming rigs and set up for non-stop action—and yes, you can even sleep on-site. World-class E-sports tournaments are also scheduled throughout the event, paying out thousands in prize money, and further cementing Atlanta's clout in the gaming industry.  
DreamHack began in November 1994 when Kenny "K2-ICE" Eklund and Martin "DH_admin" Öjes rented a cafeteria in their hometown in Sweden and invited their friends to join for a weekend of gaming and coding. From that gathering of around twenty people, DreamHack has grown to see crowds of more than 25,000 fans and 22,000 devices. (Can you imagine the wi-fi this party requires?)  
The decision to bring the festival to the States was an easy one, given the demand- about 30% of their tournament viewership is here in Georgia. After a successful, smaller-scale event in Austin, DreamHack chose Atlanta for their next American destination. Many of the same things that appeal to the film industry also apply to gaming.  "There was a lot about Atlanta that made it the right choice," says Chief Product Officer Michael Van Driel. "A vibrant gaming community, a good economic environment, the right venue, an International travel hub and a good time zone for broadcasting."  
The hosting of events like DreamHack add to the buzz around gaming in Georgia-  a state once home to only a handful of game development firms, now there are over 115. Legislators have consistently supported the expansion of film incentives to the gaming industry, and it's working. Asante Bradford, Project Manager for the Georgia Department of Economic Development's Digital Entertainment Office, doesn't see any reason why Atlanta won't be the biggest city in E-sports. "DreamHack is bringing more attention to what Georgia and Atlanta are doing in the gaming industry," Asante says. "Having the talent pipeline from our world-class technical colleges along with state incentives gives Atlanta an edge to become the market leader in gaming." 
The real beauty of DreamHack is the community and the comradery around it. No matter what your game of choice is, the energy of bringing this crowd together is palpable. "Online gaming gives people a chance to really express themselves, and seeing those interactions come to life at DreamHack is one of the best parts of what we do," says Michael Van Driel. Whether you're a veteran gamer or a curious newbie, there is something for everyone at DreamHack- and in the city brought them here.